En liten historie fra en KDM facebookgruppe:
The Harrowing True Tale of Throbber's Genitals.
Throbber was a stoic survivor. He sired many children until the tragic day his poisonous seed afflicted his betrothed who died screaming during child birth. Overcome with guilt he recklessly sought retribution by smiting The Hand of the King. His reward was a furious iron gauntlet to the crotch, devastating his forlorn penis. With that cruel blow it looked like his fathering days were over.
Until tonight.
Whilst on a desperate hunt for the Phoenix he stumbled across a strange herb with miraculous rejuvenative properties. Throbber was stunned when after rubbing it on his grisly mound, his genitals immediately grew back! Surely this was a blessing from some benign entity! With a renewed swagger in his step he faced down the Phoenix. But before he could steel himself and land a single blow, with what he could swear was the echo of mocking laughter rattling in his skull, the dread Phoenix fixed him with an iron gaze so terrifying it stared into his future and destroyed all coming kin. ....and his cock and balls.
Alas poor Throbber shall throb no more.
I love this game.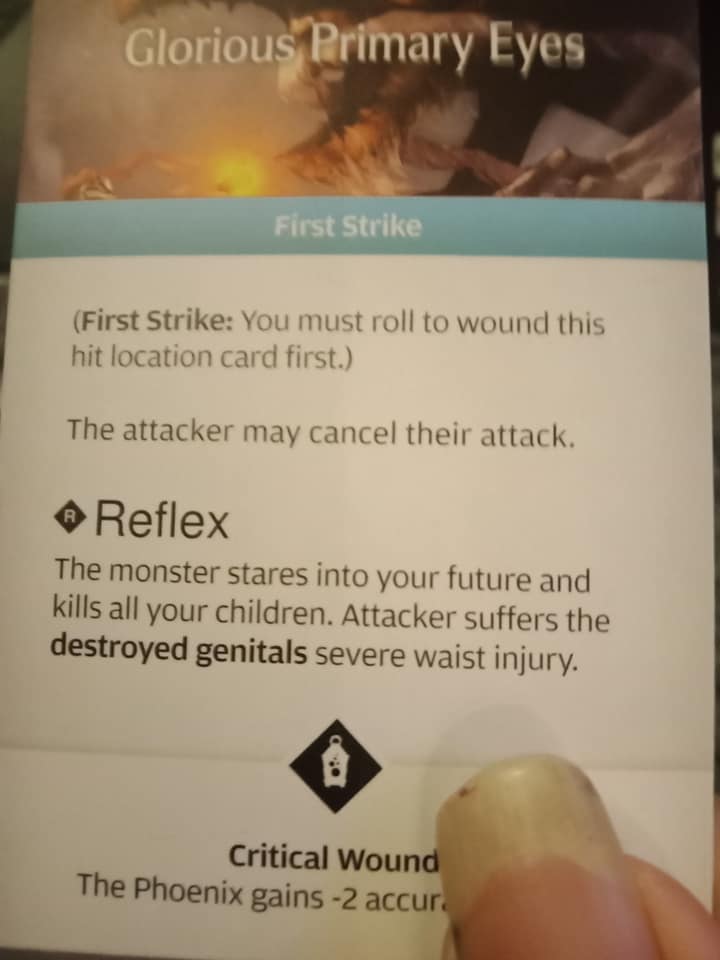 Phoenix er kreft å slåss mot, mest pga jaktdelen som gjerne gimper hele laget, men angrepene til fuggern gjør det verdt det